We're happy to be a part of Library Journal's piece "Not So Trivial Pursuit" in their Reference 2018 supplement. Under the heading "Bolstering fun competitions with reference skills," associate editor Mahnaz Dar compiles a number of examples of libraries who have engaged their communities with trivia challenges.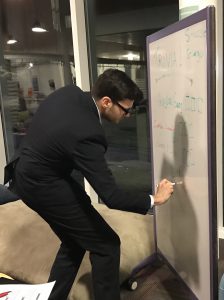 Back in February, the Southampton Library played host to a trivia night that brought together teams from across campus to battle wits (and eat snacks). With the use of cell phones banned, a handy cart of reference books provided a lifeline to contestants. Not only was a good time had by all but they hopefully picked up a few reference skills as well.
The event was engineered by MFA student and Resident Advisor Will St. Marie. Now that the word is out, we'll have to make this an annual event!
Head of Southampton Library
at
Stony Brook University Libraries
Chris is the Head of SBU Southampton Library and the liaison to the MFAs in Creative Writing, Film, and Theatre.
email: chis.kretz@stonybrook.edu
Latest posts by Chris Kretz (see all)